Over 1,000 trees to be cut down for Madiwala-KR Puram metro project
For the construction of the new metro at Madiwala-KR Puram, the Bangalore Metro Rail Corporation Limited has asked the Bruhat Bengaluru Mahanagar Palike (BBMP) for the permission to cut down 1,037 trees that will fall in the area of construction.
The BBMP, in response to this, has started the survey of the tress to check if they are for for the transplantation.
Deputy Conservator of Forests Cholarajappa said that "We are trying to transplant as many trees as we can and if they cannot be transplanted, we have to cut them down." According to him, every year the BBMP plants more than one lakh saplings around the city to maintain the tree cover.
He informed the Softcopy that the BBMP's Forest Department has a separate unit named Canopy Management Team which is responsible for cutting down dry trees, trees permitted to be cut down and for fallen trees due to heavy rains.
He also said that, "For cutting down a tree, a person needs to take permission from the office but if the person fails to do so, a case will be filed against him and he would have to pay a fine."
The Bangalore Development Authority (BDA) has asked the BBMP for the permission of chopping down around 200 trees, to which the BBMP officials refused.
Aditya Dhiman, a resident of Indiranagar, said that many places around the city used to be lush green but now the number of trees around the area has been reducing. He said that the officials are cutting trees even in the area where it is not required.  Noopur Sinha who has been living in Electronic City for two years said that many trees have been cut down in the name of urban development.
A.N. Yelappa Reddy, an environmentalist, said that if the trees continue to be cut in this manner, it will have a severe effect on the environment. He said, "The trees mitigate air pollution, reduce surface temperature, improve air quality and offer more than one ecological service. We are yet to realize the value of ecological fruition they give that is oxygen, improving air quality, providing shade, providing habitat to birds, and bees."
[media-credit id=43 align="alignnone" width="288″]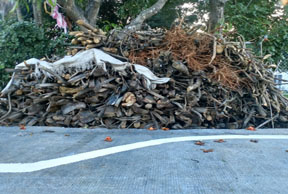 [/media-credit]