Number of female applicants is less than male applicants at the Employment Exchange in Bengaluru  
Bengaluru, Sept. 18, 2018: All the four Employment Exchange offices in Bengaluru have much higher number of male applicants as compared to female.
According to the data from the Directorate of Employment and Training in Bangalore, the total number of applicants this year until the month of August is 84,151. Among the applicants, 59,799 i.e. 71.1 percent are male and 24,352 i.e. 28.9 percent are female, which draws up a gender gap of 42.2 percent.
[media-credit id=32 align="aligncenter" width="583″]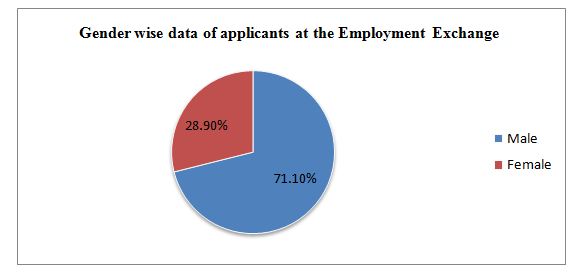 [/media-credit]
The usual employment ratio of Bangalore stands at 26.6 percent male and 73.4 percent female, out of a total of 3,692,394 workers with a gender gap of about 47 percent, as recorded by the statistics website Neighbourhood Info.
http://www.neighbourhoodinfo.co.in/city/Karnataka/Bangalore/Bangalore
[media-credit id=32 align="aligncenter" width="604″]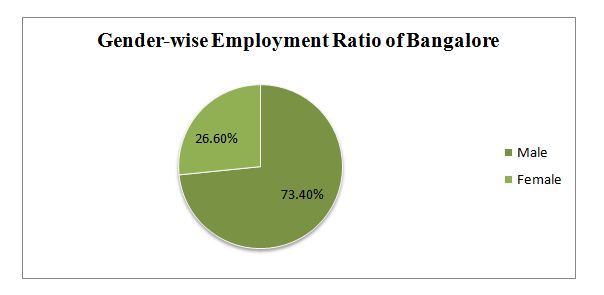 [/media-credit]
According to the Fifth Annual Employment-Unemployment Survey (2015-16), http://labourbureaunew.gov.in/UserContent/EUS_5th_1.pdf the Labour Force Participation Rate (LFPR) in India among females is 23.7 percent, while it is 75 percent among males. This mean almost 24 out of every 100 female and 75 out of every 100 male are part of the workforce.
V. Venugopal, Deputy Director of Employment at the Directorate of Employment and Training, pointed out that there is no official category for transgender at the Employment Exchange of Bengaluru. The very few transgender applicants that come to register are mostly placed in the male category.
He adds that although a separate category for Transgender is needed, the government should first take an initiative to encourage the transgender population to apply for socially respectable jobs.
The Fifth Annual Employment-Unemployment Survey records the LFPR of Transgender at 48 percent, i.e., 48 out of every 100 Transgender is part of the workforce.
[media-credit id=32 align="aligncenter" width="656″]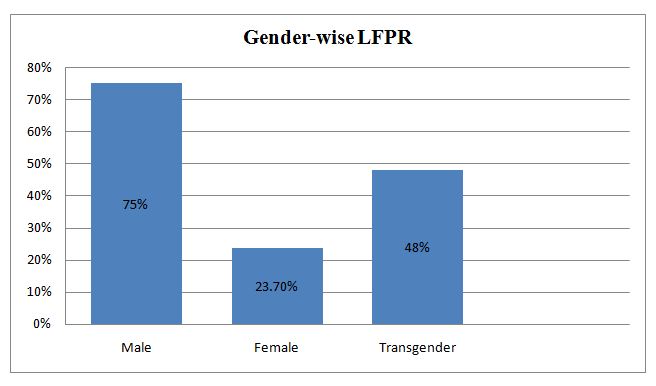 [/media-credit]
According to Pradeep Mishra, Director of the Institute of Engineering and Management (IEM) in Kolkata, there are several reasons behind the low female LFPR. He says that the percentage of women seeking employment is not 50 percent of the their total population and the women who are in the workforce often shy away from outdoor jobs, especially in, West Bengal, UP, Orissa, Bihar, MP and Rajasthan.
He adds, "There are restrictions imposed for employment of females in certain types of work by statutes. Also there is lack of education and skills amongst females compared to male counter parts. Fear of harassment from males in work place dominated by males is also another reason. The recent increase in maternity leave entitlements makes employers avoid employing females."
According to Mishra, this gender gap can be narrowed by more education and skills training of females who are employable and strict enforcement of laws like Equal Remuneration Act and Prevention of Sexual Harassment at Work Place, and Minimum Wages in various employments.
He adds that the female employees have to remove the stereotypes by proving that they are equally capable as their men counterparts. Night time employment restrictions on female workers also need to be removed, and more incentives for female workers and crèche facilities have to be encouraged by the government.
Featured Image Courtesy: HR in Asia