Overspeeding and parking violation problematic even after measures were taken by the traffic police.
Bengaluru, Sept. 4, 2018: Church Street is one of the prime spots in the city which people visit often to spend their time. The street is usually full of people, both on the street as well as on the sidewalks. But, the drivers and riders visiting Church Street continue to break traffic rules due to the absence of traffic officers.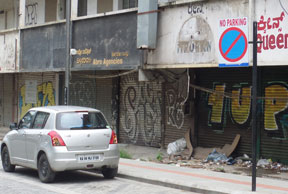 The speed limit at Church Street has been kept at 10 km per hour but cars and motorcycles are often seen making it through the busy street at a faster pace. Various parts of Church Street have been marked as a no parking zone, but cars are regularly parked in those areas.
As per the law, for parking at a no parking zone, the offender could face a spot fine of Rs. 100 under Section 190, Clause 117. The vehicle can also be towed under Section 15(2), R/W Section 117 of the Motor Vehicular Act. For overspeeding, a person could face Section 112 with Section 183(1) and (2) of M.V Act.
One of the reasons for the violations, even after strict laws, is because the number of police personnel assigned on Church Street is fewer. According to Sri Sayla, the traffic officer- in-charge at M.G. road, the number of personnel is less and a single officer is often assigned with different duties, such as managing traffic congestion near schools.
Therefore, the officer assigned at Church Street has to leave the area to maintain the traffic at the schools nearby and they can only book the offenders when they are at the scene. The number varies between 50 to 100 on a daily basis.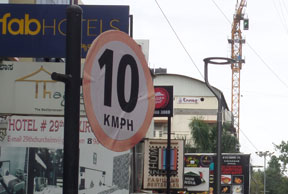 Anil Kumar Grampurohit, the head inspector of Traffic Management Centre at Vasant Nagar said, "The government is the sanctioning authority. We should get permission from the Government to increase the fleet strength. Only after the approval of the Government can we deploy more. But with time that will be enhanced."
There are several other factors leading to this situation. In an interview with The SoftCopy publication, M.N Sreehari, advisor to the government of Karnataka for traffic, adds that the area is not designed to handle such big crowd. There is not enough adequate parking space.