The bridge was washed away in the rains in 2015 and since then commuters have to spend longer to get to their offices.
The bridge stretching from R V college to Global Village, Mylassandra has been under renovation for the past two years causing hardship and extra travel to over 45,000 people.
It was due to open last week, but work is not complete, yet. However, the new bridge is expected to be over the high flood line and safer than the older one which collapsed in the rains in 2015. The bridge acts as the main link between Global Village, Tech Park, and RV College. The bridge is over the Vrishabavathi river. Thousands of people used this bridge to travel as it is the shortest way to reach office. But due to the bridge being under construction, employees of the Tech Park are forced to enter through Rajarajeshwari Nagar Arch or Mylassandra, which is comparatively farther than the usual shortcut.
Vishwajith G, an employee of a software company at Global Village, complained about the Bhruhat Bengaluru Mahangara Palike's (BBMP) delayed work. "I leave home early, to avoid the traffic at the arch. The construction of the bridge has been under work for almost two years now and yet there is no development," he said.
Mushraff, a laborer, said, "Rains are the major cause for delay of work. Many tools got washed away in them." Mani. G, an Auto-rickshaw driver said, "There has been a drop in customers, because of the bridge construction. We are forced to travel a longer distance than usual."
Mazarulla, the Managing Coordinator for Global Village campus, voiced his dissatisfaction about the false promises made by the government. He said, "Initially the officers said, it will take only six months to finish but its more than one year.  But now they have promised to finish it by December 25."
Suryanarayana, Assistant Executive Engineer, informed that with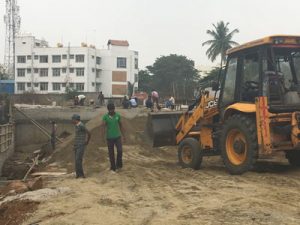 in one month the bridge would be ready to use. The total cost of the bridge would amount to Rs 5.12 crores.
He also said, "There are a lot of hiccups that have come up because of the bridge. Initially, there were only two vents of 14.5 meters, but now there are three vents of 15.7 meters. This acted as one of the factors in the delay of work."
He also expressed his anger towards Bangalore Water Supply and Sewerage Board (BWSSB) as they failed to help in the construction process. The blueprint that has now been designed was done keeping the high flood line in mind because of the excessive rains. Chandan, a contractor, said, "When it rained a few months ago, everyone by the bridge was affected, but nothing happened to this bridge. The water didn't overflow."  He also said, "Sir (Surayanarayan) called me at 1 p.m. and asked me to come to the bridge to check the status, we were relieved as nothing had happened here."
While Arya Srinivas, corporator of Hemmigepura ward, said, "The tender and rain got the construction delayed. Within a month I am sure it will get completed, and it will start functioning."